History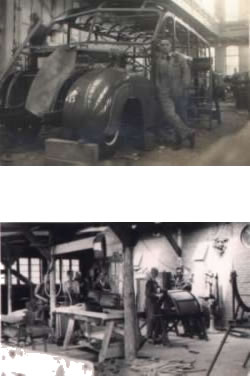 From the De Haan-Sisters and how it all began……
Marijke and Ingeborg de Haan manage since 2005, as fourth generation, the family owned company "De Haan Metaaltechniek BV".
The company began in 1924 with making wooden wheelbarrows on the farm land of Willem de Haan. The demand for wheelbarrows came with the advent of airport Soesterberg. Here you got 10 cents for a wheelbarrow load of gravel that was used for the construction of the runway.
The manufacture of wooden cars grows into coach-work for commercial vehicles and specializes, led by Dirk de Haan, in mud guards for trucks around the 40s. With the emergence of car trailers mid-50s, grows the demand for almost all single and tandem mud guards from 8 to 16 inches.
Late 70s De Haan Metaaltechniek BV, led by Pim de Haan and his cousin Leen Meyer, concentrates totally on production of mud guards for small transporters like trailers, box vans, horse trailers and boat trailers. In this period the production is highly automated. The first plastic mudguard is introduced in the late 90s.
Around the turn Marijke de Haan starts working for the family owned company. One year later followed by Ingeborg de Haan. During this time the range is completed with single and tandem mud guards made of plastic. At the original location in Soesterberg, commissioned by Pim de Haan, a beautiful new building is being built. Marijke and Ingeborg gave the establishment a feminine touch.
Actually the ISO certified company, led by Ingeborg de Haan and Marijke de Haan, employs 17 motivated employees, has two fully automated production lines and a daily capacity of 8,000 pieces of steel mudguards. Besides steel and plastic products the range also include mudguards and boxes made of aluminum checker plate. De Haan Metaaltechniek provides its customers high quality, knowledge, reliability, flexibility and tailored solutions.